So I'm back with my 'Being a FAT Beauty' series and today,
Bra's Galore
are helping me send that message that beauty is sizeless, that you don't have to hide your curves and just incase you didn't believe me, I'll show you..
Just like a house, you need a good foundation to build it on and for me, starting my day off the right way doesn't mean eating a good breakfast or going for a run. It's matching underwear.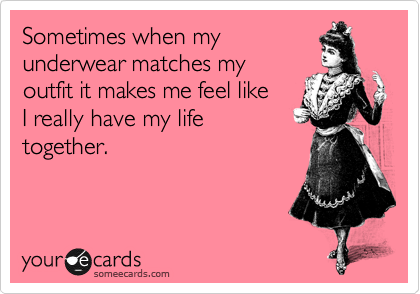 I am absolutely in love with the
Elomi Rita Multiway Banded Bra*

(44E)

and Panties*

(4XL)

,
the colour, for starters is this gorgeous royal blue that is the perfect shade for all skin types. It's from Elomi's glamorous collection and boy does it feel glam! The bra has scalloped opaque sheer inserts in the cup which I find adds to the allure.. especially when I'm wearing it in the bedroom for James..
there I said it
. haha. The bra also has a moveable hook which allows for the back to be converted into a racer back style. The bra itself is both gorgeous and comfortable. I find it supportive and with it being satin, It feels super sexy! The panties are a great size and sit perfectly, I hate buying a pair thats too short it has to sit under my tummy, I like to simon cowel my shit so it sits nice and helps keep me all in but that's just me. I found everything true to size, When I chose my bits It was before I started my diet and I will say I have definately dropped a few back sizes, so I think for my next Elomi purchases I'd be going for a 40E.
So how do you get the confidence to wear what you want over your newly purchased sexy matching underwear? It's simple, you open your wardrobe, pick what you want to wear and simply wear it. I hate feeling like I have to cover my curves with an oversized top, not so long ago I did think that way but now, I have a love for bodycons, I embrace my wobbly bits and I encourage you to wear something that shows your shape. If I wanted to hide it, I'd wear a black bin liner! Here are some outfits from 2014 that cling to my curves and some might say aren't flattering but me, I think they rock!
The power is knowing your shape and how you can style it and when I saw this on Pintrest I HAD to add it to my body confidence board!
Marie
wrote 6 plus size fashion rules to break right now and the post is AMAZING and you should all go read it
HERE
. As with my last post, Here are my favourite body confidence pins on my pintrest that you can have a peek at!
Follow Fatbeautyx's board Body Confidence on Pinterest.
I always reply to all my comments & will always return the favor.
Make sure you're following me on all my social media too!!